Legally Civil Ceremony in Italy ….We break all distance from tears.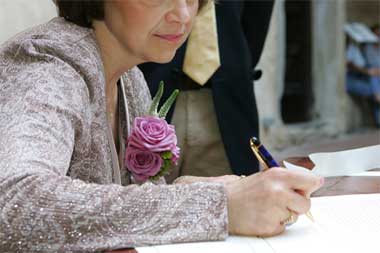 Sometime the ceremony issue is what departs you from a Tuscan wedding . Thinking is hard and far to organize. We break all distance from tears.
We take care of Civil documents and procedures for legally binding weddings in Tuscany and Italy. Roman Catholic Wedding Ceremonies, Protestant wedding Ceremonies, Civil Wedding Ceremonies, Religious Wedding Ceremonies, Symbolic blessings. Greek Orthodox ceremonies, Jewish ceremonies .. we can be your contact with all the religions in Tuscany and Italy that will lead you to Marriage.
Wedding With A View Professionals will personally assist you with all the legal paperwork involved in your Tuscan ceremony . We give you all the information and instructions for all documents that are required to be done before your arrival here in Tuscany. Upon your arrival, our staff will meet you and escort you to all booked appointments and offices that will release your valid Italian marriage license. Wedding with a View will provide an interpreter for civil ceremonies, an English speaking priest belonging to your religion for blessings and church celebrations, a civil celebrant in case of non religious blessings. We will be your Witnesses for weddings for two. Any further request, just ask and we will provide all to make your dream wedding celebration in Tuscany.
Location Venues
Latest News
The splendid Villa del Balbianello rises up on ...

From a cocktail to a romantic dinner, a busines...

Spread along the shores of Lake Como far from t...